Board Configuration
When your Board is created, additional settings can be found in the Configure Board section in the sidebar. This is only available to the Team members that are Admins or Owners. In this section you can find Details, Settings, Hotkeys and Integrations tab.
Details
Details tab allows you to personalize your Board. You can change the Basic Info, such as title, board code, or description, and to Upload Board Logo. Also, you can change the Board type from Scrum to Kanban and vice versa to suit your needs.
In this section, the Owner can Archive or Delete the Board.
Transfer a Board to another Organization
In order to transfer a Board to someone's organization, you need to be a member of at least one Board that user is the Owner of. Or the other option is that you are added as a Team member to the Organization by the Organization Owner (on the Team Management page).
Only the Organization Owner can transfer a Board. By transferring a Board, the ownership of that Board will also be transferred to the Owner of the chosen Organization. Team members of the Board that is being transferred will be added as Guests to the chosen Organization.
Settings
Settings tab offers a variety of options to customize your Boards even more. A 'Workdays' option is available since not everyone works five days per week or from Monday to Friday. You should select the checkboxes next to your workdays, which will affect your Burndown chart and make it true and valuable.
Furthermore, you can choose a 'Default Assignee', 'Default Follower', 'Default Item type' and 'Default Item tab'. A default follower is a person who will get the notifications about the desired Item. Available Item types are Story, Improvement, Bug, Task, Note, or Idea. You can always change the assignees, followers and Item type directly by changing the details on a specific Item.
A default Item tab can be set to All, Comments, Commits, or Activities. You can also choose to switch off some of these tabs.
If you want to see the Item Progress Bar (the relation between logged hours and the estimated effort needed for completing an Item), you can select the option 'Show Item Progress Bar'. If you don't want to see it, make sure it is not selected.
The same applies to Displaying Estimation on Item Cards. By default, the Item Estimation (the relation between Item Value and effort needed to complete an item - Effort Units) are shown. However, if you want to see only the Effort units, you can select the option to 'Show Only Effort Units'. In addition to this, you can choose whether the Item code will be shown on a card.
You can also choose which controls you'd like to have available on an Item Card. Go to the 'Item Card Controls Visibility' and check the controls you'd like to use. A maximum of 7 control icons is allowed in the bottom section of an Item card. Those controls are Points, Comments, Files, Priority, Relations, Checklists, Events, Worklog Tracker. You can also set the visibility of Performers, Labels and Due Date.
Further down, if you are the Board Owner or the Admin, you can choose and define 'Effort Units' for your Board. Units are used to estimate how much effort is needed to complete an Item. A team can choose between different types of units: points, hours or make a custom unit. After choosing a Unit, you can manage unit entries (add a new entry or delete the existing ones).
On the Settings page, you can also add custom fields for Items on a Board where you can add additional details to Items in order to make collaboration easier and better organized. Read more on how to set up them here.
Hotkeys
Hotkeys is a feature that saves you time when creating an Item. First, give your hotkey a title. You can assign Item details (assignee, reviewer, points, value, type, label, and checklist) and decide whether that is a priority or not. All fields are optional. Once you save it, you are ready to go. Just type in # in the Item title and choose the one you need from a drop-down menu. If you cannot find it, just continue typing its title until you see it. When you click on your Hotkeys, all Item details will be automatically defined. Don't forget to enter the item title after you select the hotkey you want to use.
If you don't need a hotkey anymore, you can delete it by clicking on the bin button next to it. Check out the video to see a hotkey in action.
Integrations
On the Configure Board page, there are various options for external integration - chat integration, revision control (GitHub, Bitbucket and GitLab) and CI integration.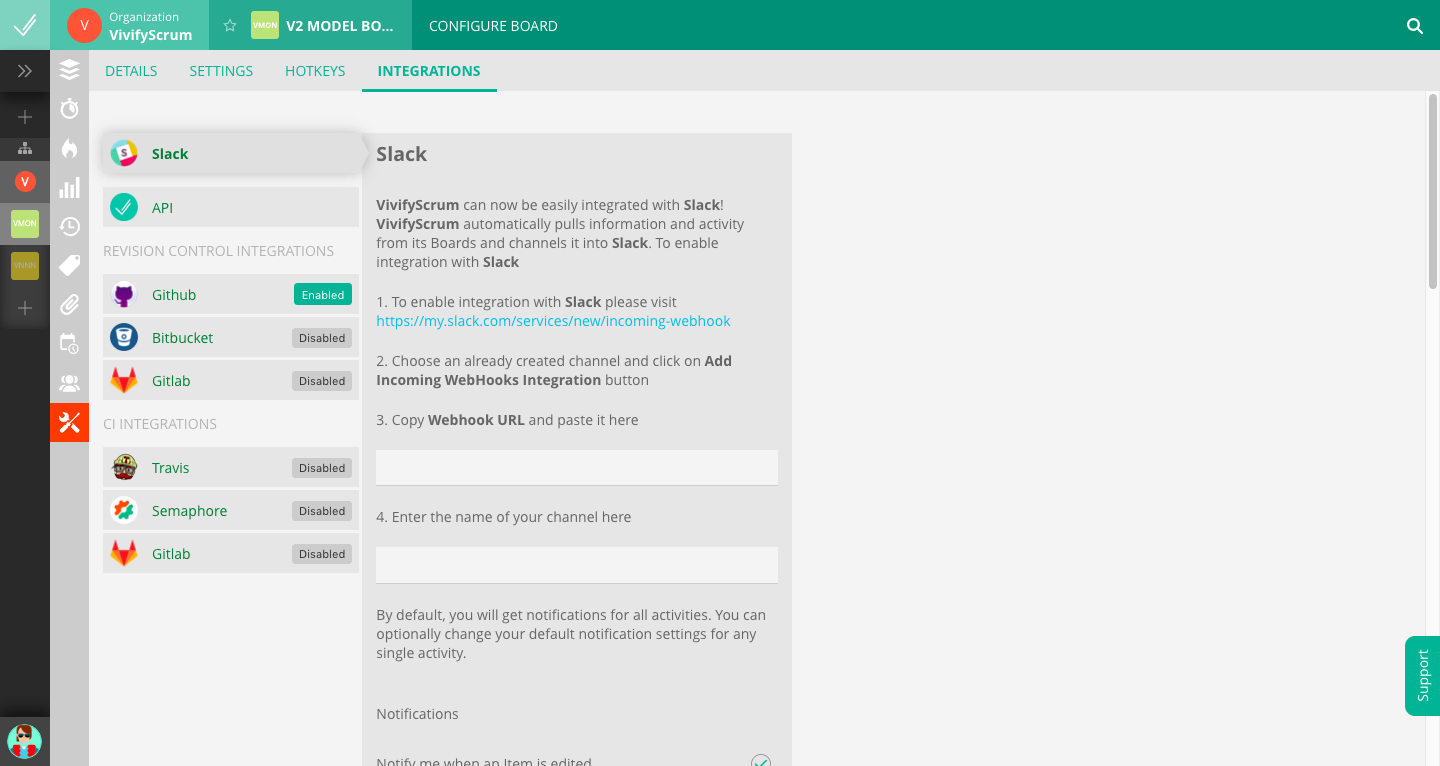 How to delete a Board?
Only the Owner of the Board (the Organization Owner) can archive it or delete it. Archived Boards can be found on the Boards page where all Boards are visible (within an Organization). The Owner can choose to reopen the archived Board or delete it permanently by clicking one of the buttons.