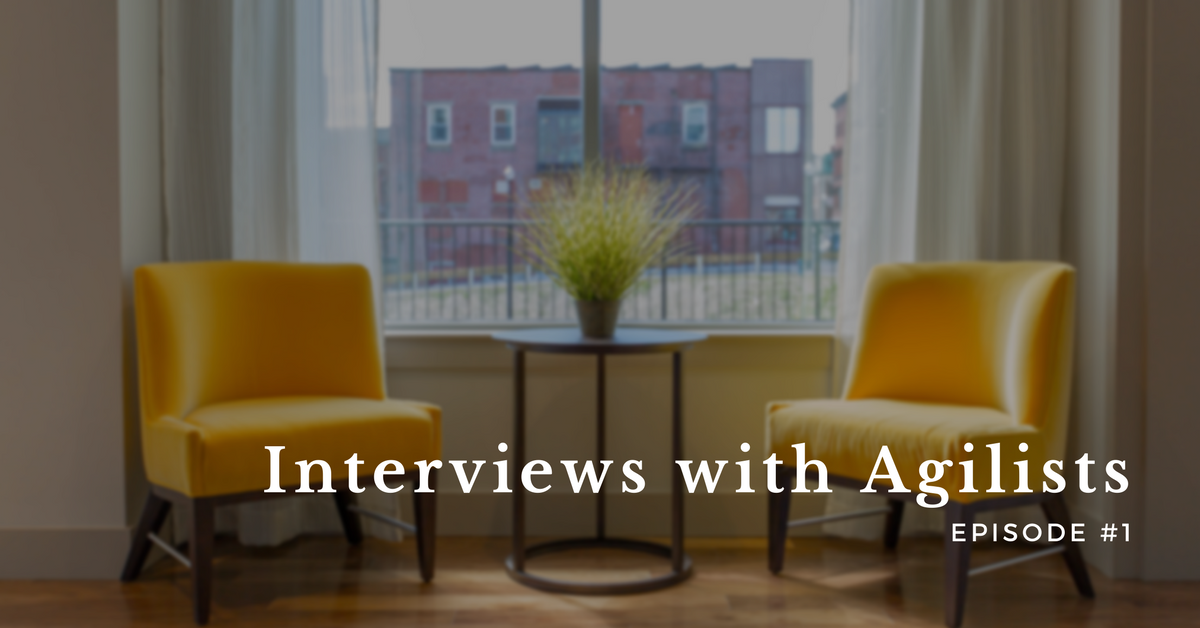 We have had this idea about doing Interviews with Agilists, for quite some time now and we are excited to announce that we have definitely made the first step with this, our first (of hopefully many) interview.
We wanted to do something different with these interviews - instead of talking to big names in Agile and influencers, we want to reach out to Agilists who are in the trenches, deep in the salt mines, using Scrum and Kanban every day to deliver products to customers.
We wanted to hear about the everyday problems and benefits of being Agile.
Our first interviewee is Marcelo Votre, a project manager with the Project Management department at Brasilcap, a Rio de Janeiro-based company which is part of the Banco de Brasil Group.
His team consists of front and back-end developers, designers and project managers. The total number of team members is 32 and they work on the development of digital apps and microservices for their company's products.


Q: When did your Agile story begin? And what was your team's biggest impediment while implementing agile practices?
A: We started implementing agile practices in Brasilcap 2 and a half years ago. I'll name some of the impediments and challenges that we were facing in the beginning within a team and within the whole company. First of all, it was hard to change the mindset of the entire company. Not everyone knew about Agile and its ceremonies.
Another thing we noticed from the start was the lack of predefined declaration of scope. Another challenge we've faced was on-demand cash flow control.


Q: Have you incorporated any practices from other agile frameworks rather than Scrum and Kanban in order to make adjustments to your workflow?
A: We still haven't, but we plan to implement Large-Scale Scrum.


Q: How does your user story look like? Do you use estimations?
A: We have a predefined template for our user stories:
As a < type of user >, i want < an objective > to attend < a necessity >
We estimate our tasks by using Planning Poker. We also have pre-game cycle interviews to talk about requirements for a task. Most of the time we overestimate. We are trying to implement a Definition of Ready to assure that requirements are mature enough to go into the development process so that we can get a more accurate estimation.


Q: What do your Sprints look like? Do you conduct all meetings - from Sprint Planning to Sprint Retrospective?
A: The development team and the Scrum Master are present at every Sprint Planning and Daily Scrum meeting. We also hold Backlog grooming meetings and, in addition to the Dev team and the Scrum Master, Product Owner is also present. This applies to the Sprint Review meeting too.
We consider that the Sprint Planning meeting was a success when we finish it with a clear understanding of our Definition of Done and when the Product Owner is involved and familiar with the effort needed to complete tasks.
At the Sprint Retrospective meetings, team members are encouraged and free to speak about everything that went well or not so well during a Sprint. Sometimes we turn to the "keep/improve avoid/stop" technique to improve our Sprints. When we identify all the impediments, the Scrum Master sometimes sets a plan with due dates for solving the impediments that couldn't be removed during the Sprint Retrospective meeting.


Q: How do you track the progress of your project?
A: We use both Burnup and Burndown charts.


Q: What are the most important benefits of being Agile when it comes to your team?
A: One of the benefits we see is a clear and immediate communication about ongoing routines in order to achieve short-term objectives. The continuous improvement of our team and team members as individuals as well. Also, I can say that teams are more energized.


Q: How do you measure the productivity change within your team?
A: The team has clear goals and everybody works together to finish a Sprint. We measure the productivity change by creating and tracking team Sprint charts. Also by measuring business value delivered at each Sprint review. The productivity of an individual team member is measured by points delivered per Sprint.


Q: Is the quality of the products you make affected in any way by implementing Agile frameworks?
A: The ability to better anticipate and resolve issues within a Sprint results in a better product being released during the release cycles.


Q: Has Agile affected your collaboration with the clients? In which way?
A: Client + IT department interaction is slowly improving. Clients are ready to compromise more regarding their requirements and the development team is gaining more and more credibility with each product release. However, the process is so slow that it is almost inconspicuous.


Q: Can you name any downsides of Agile based on your experience?
A: Not every project is eligible to be run in Agile, and identifying this is a key to success or failure.
If you'd like to share your Agile experience with our readers, click the button below to find the interview.
Disclaimer: The interview has been edited for clarity and style.