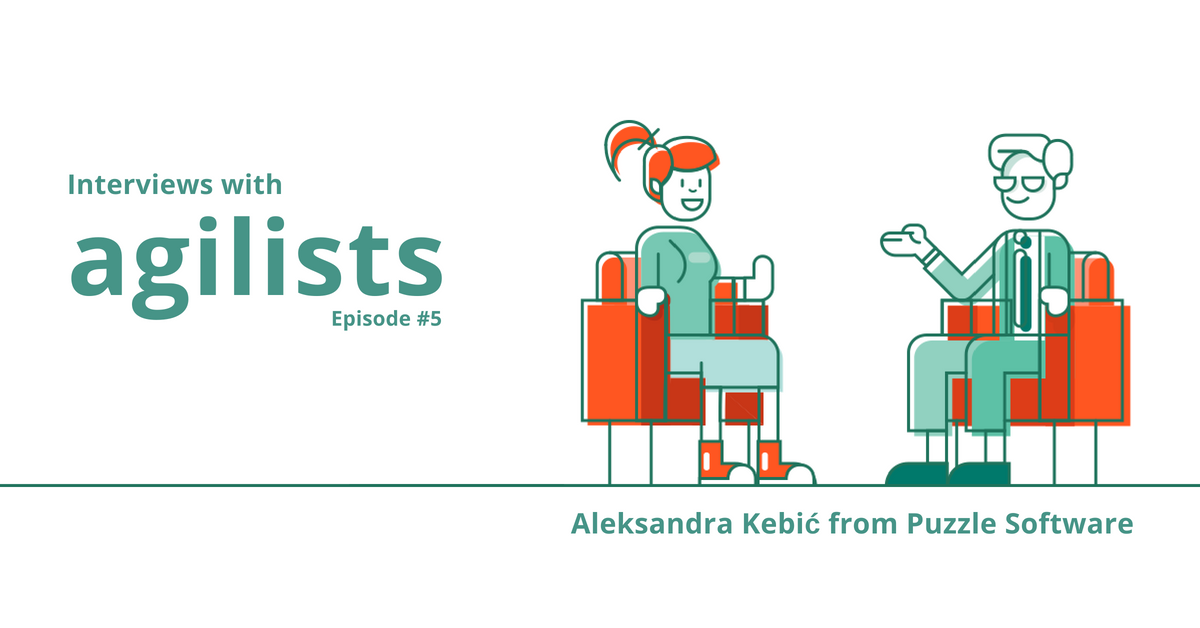 For today's Interview with Agilists, we are sitting down with Aleksandra Kebić from the Agile software development company Puzzle Software. Aleksandra is the Product Owner on a startup project which is being developed by a distributed team of 6 which includes both backend and frontend developers, as well as a Scrum Master.


Q: When did your team start using Scrum and what were the biggest challenges your team encountered early on?
A: We started working in Scrum from the very start of the project. It was a new team, and we had passed through phases of forming and storming. In that moment, I couldn't say we had used Scrum to its fullest potential. It was a mix of Scrum / Kanban and other different practices, and we struggled to become Agile.
Even today, we face some challenges from time to time, but everyone in the team is conscious and willing to use and work according to Agile principles, so we get back on the track very fast.


Q: Does your team use any of the techniques from other approaches?
A: Yes, we also do pair programming, unit testing and continuous integration.


Q: How does your team stay synchronized with other teams in your company?
A: We have live meetings (grooming, sprint planning, sprint review, retrospective, etc.). We use JIRA tool for tracking user stories, tasks, and bugs and we use Skype for continuous communication. When all the team members are present, we will hold a live daily, otherwise we organize it every day through conference calls.


Q: What does your user story look like? Do you have a template?
A: We use the standard user story template - As a user, I want to... , so that I can…


Q: Does your team estimate task and do you use any techniques to do this?
A: We estimate tasks and we use planning poker to do it.


Q: How do you track progress of your project?
A: We use a Sprint Burndown chart to track the progress of the Sprints.


Q: Do you conduct all of these meetings with your team - Daily Scrum, Sprint Planning, Sprint Review, Sprint Retrospective, Backlog Grooming? Who is present at these meetings?
A: We conduct all those meetings. The Development Team and the Scrum Master are always present. The Product Owner is present in most of the cases (except Daily Scrum). Stakeholders attend Sprint Reviews.


Q: What do your Sprint Retrospectives look like? What is your main focus during the Retrospective meetings, what do you look to achieve? Do you use any technique to track and remove impediments?
A: We talk about the way things were done in the previous sprint, about communication and transparency and eventual challenges, about possibles improvements. If there are any, the Scrum Master writes them down. We decide upon some new techniques to use for better processes or communication.
We use the start-stop-continue technique during the meeting, but this meeting is generally quite informal and relaxed.


Start - Stop - Continue Sprint Retrospective technique
Q: What are the most important benefits of using Scrum/Kanban when it comes to your team?
A: Transparency, self-organization and good relations in our team. In addition to this, everyone clearly understands the product vision and embraces it; with no one feeling excluded but fully engaged in every situation.


Q: How has Scrum/Kanban affected your team's productivity? How do you measure the productivity change?
A: At the beginning, we wandered quite a lot, but from sprint to sprint, we started to deliver increments faster (but that's not the point, really). We don't measure productivity, we are trying to stay focused on goals, especially on individual Sprint Goals. Every time the team reaches the Sprint Goal, that makes us very happy (especially me :) ).


Q: How has your Agile approach affected the quality of the products you make?
A: We are always oriented to market needs. We are able to keep the pace with the changes in the market. We make sure to listen to our customers, users, and this kind of good communication helps us even more to deliver great product increments because all team members act as one.


Q: Has Scrum/Kanban affected your collaboration with the clients? In which way?
A: We are developing a product for the mass market and we collaborate with different event organizers, event agencies, even with end-users. Even beyond Scrum ceremonies, we are doing our best to talk with intermediaries and end users as often as possible, which continuously provides us with valuable feedback.
If you'd like to share your Agile experience with our readers, click the button below to find the interview.
Disclaimer: The interview has been edited for clarity and style.